On Wednesday, February 17, Buckingham Palace announced that Prince Philip, Duke of Edinburgh and husband of Queen Elizabeth, had been admitted to hospital the previous evening, Tuesday, February 16.
The full press release is below: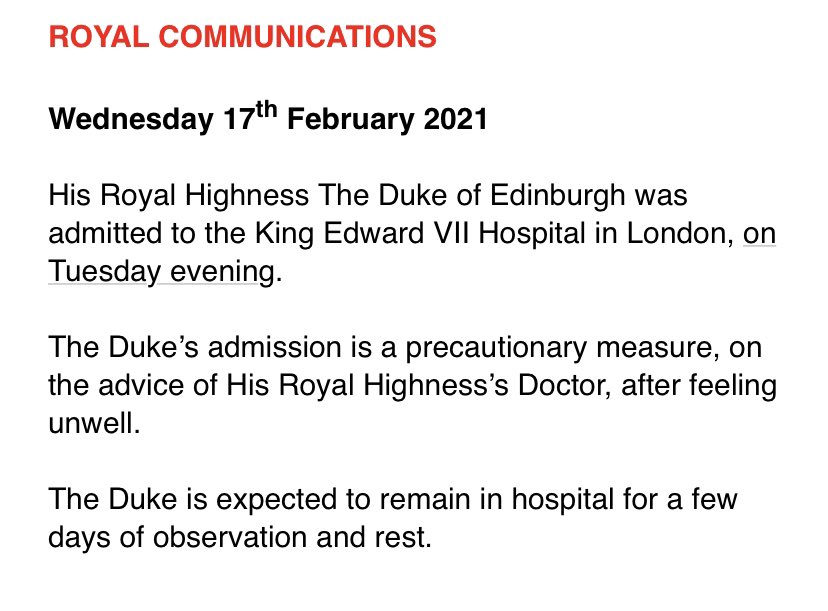 Philip had been feeling unwell for at least a few days.
The illness is not COVID-related.
Philip was not admitted to the hospital as an "emergency" case.
Philip was transported to the hospital in a car, not an ambulance. Additionally, he was able to walk into the hospital for treatment unassisted (no cane/walker/wheelchair).
Queen Elizabeth remains at Windsor (where she and Philip have been living during the majority of the pandemic) and working. No days off when you're the monarch.
Prince Philip is 99 years old and will turn 100 on June 10. There are celebrations planned for his 100th birthday, though they will, of course, be tamped down by coronavirus safety protocols. Philip is known to be pretty indestructible, and hopefully this will remain to be the case. Wishing him all the best and a speedy recovery.
Thoughts
This is the part of the article where I upset some people. I am going to speculate on a few aspects of this story. Everything above this paragraph is facts; everything below is speculation. Ready? Okay.
Isn't there a small but well-qualified medical team at Windsor (or stationed nearby) to deal with any illness or injury suffered by the Queen and/or Prince Philip? If Philip is feeling fine but needs to be in hospital for several days just for observation and rest, wouldn't that be much more comfortably and easily done at Windsor, with the help of said medical team?
And on that point, after Prince Charles and Prince William both suffered from COVID-19 last spring, wouldn't the royal family have stocked up on any monitoring equipment it didn't already have, knowing how quickly one of its members could become ill? Just as there's a small medical office in the White House, I'd imagine that there would be something similar set up at Buckingham Palace. And with Queen Elizabeth and Prince Philip having moved to Windsor full-time quite a while ago, wouldn't that all have been moved and set up by now?
So both of the above points, combined with the "he's fine and just there for rest and walked into the hospital unaided" comments indicate that either 1) Prince Philip is either much more ill than Buckingham Palace wants us to believe and is trying to play it cool; or 2) Prince Philip is fine and Buckingham Palace wanted to direct attention from Meghan and Harry and their Oprah interview back to concern for the elderly husband of a monarch who has always put duty and family first (I'm sorry! I feel bad writing it but I also think it's possible!).
What are your thoughts? Should I be tarred and feathered for suggesting that this might be a bit of a PR move? Let me know what you think. Support me via Square here. Stay safe and wear a mask.
Processing…
Success! You're on the list.
Whoops! There was an error and we couldn't process your subscription. Please reload the page and try again.