Prince Philip was discharged from the hospital!
To everyone's relief, Prince Philip was discharged from the King Edward VII hospital this week, after 28 nights in both the King Edward VII and St. Bart's, both in London. Originally, Prince Philip was admitted to the hospital with an infection, but he additionally had a procedure on his heart during his stay. Prince Philip turns 100 in June, so it's great that he was able to get the all-clear and head back to The Queen at Windsor Castle. Yay!
PS: There are publicly available photos of Philip leaving the King Edward VII Hospital. The man is 99 and just spent a month in hospital and in the pictures, he looks like he's 99 and just spent a month in hospital, so I'm choosing not to publish them here. Just a personal choice. If you want to look them up, you can easily do so.
Will and Kate wished us a Happy St. Patrick's Day!
Charles and Camilla posted a cute picture on the first day of Spring!
The future King and Queen of the United Kingdom released a photo of themselves loving flowers, spring, and each other yesterday. It was very sweet.
There are a lot of bad things that can be said about Charles and Camilla, but two things are undisputed: they are two odd ducks, and they are very clearly soulmates.
Will and Kate are hurting and healing visited London Ambulance to thank them for their COVID efforts!
This past week, Will and Kate paid an outdoor visit to the London Ambulance to speak with staff and thank them for their massive efforts during the last year of COVID-19. This is one of the official photos of the engagement that Kensington Palace released: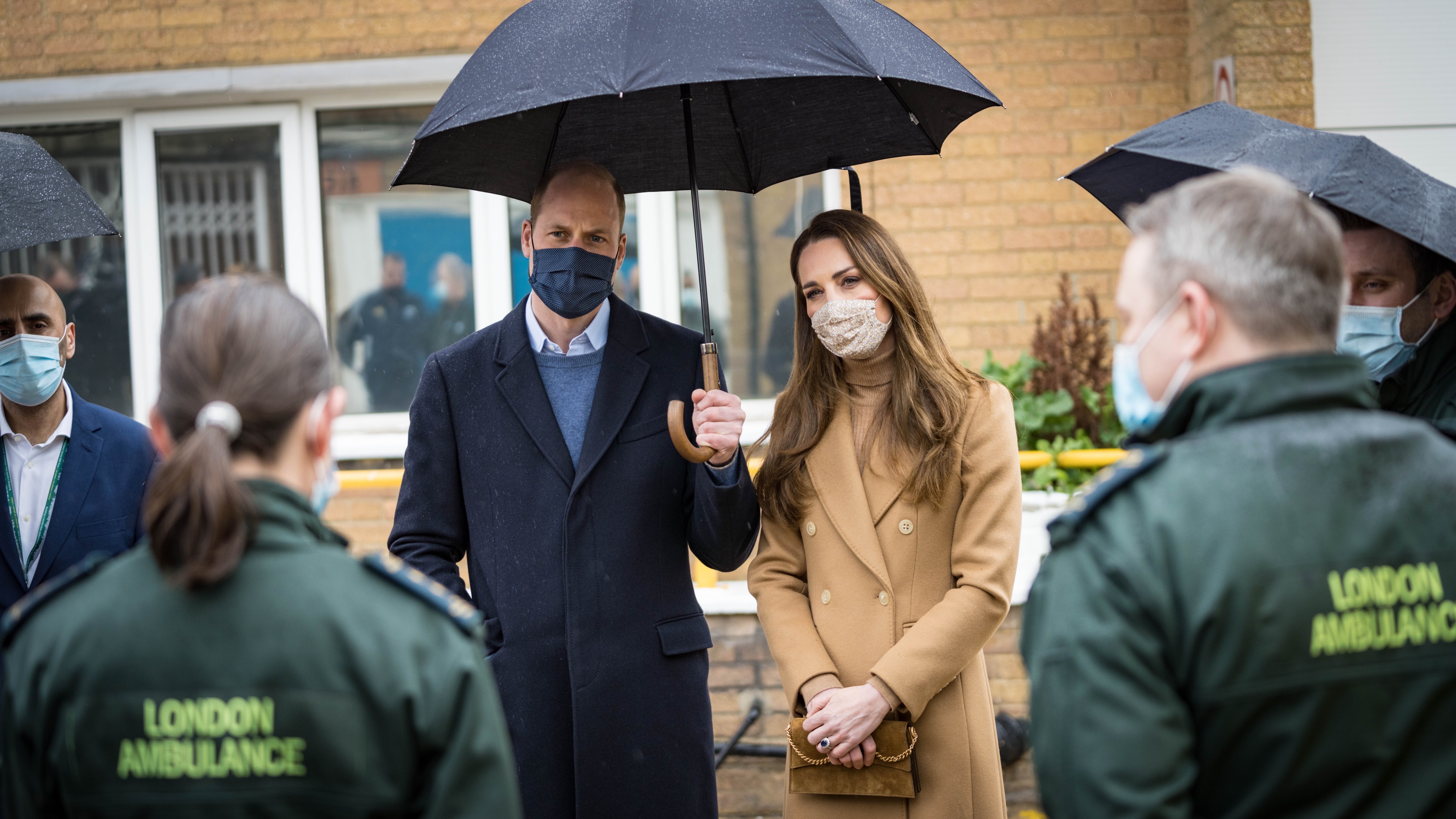 And this is the unofficial, non-sanctioned-but-still-carefully-crafted-by-Kensington-Palace photo that the pool photographer got while on the same engagement:
It's not a coincidence that they chose to stand in front of this mural at their London Ambulance engagement. It's a nod to how Will and Kate are feeling about the fallout from Harry and Meghan's interview with Oprah. I'm going to get more into this unofficial photo and other ways that Will and Kate are losing their cool re: the Sussex situation. It will be up in the next day or two.
The Sunday Times published a front-page story on Will!
Couple of things: As always, none of Will's "closest friends" are on the record, because that's not how things are done if you're a senior working member of the BRF. Also, the article is paywalled, so I will give you the things that make Will tick: his wife, his children, duty to his grandmother and country, modernizing the BRF, and helping people.
I know that the Sunday Times Magazine put this portrait of Will in his formal army uniform on the cover because it signals duty and his love of country, but holy cow it seems tone deaf. I think it's mostly the hat. Maybe other people like it. I think that making him look like a police chief one week after the Sarah Everard vigil (in which members of the police used excessive force against mostly women campaigning for safety on London streets) is bonkers. Why would the Sunday Times Magazine do that?
Queen Elizabeth said, "Hello, Camilla"!
All you have to know is that Queen Elizabeth and Camilla did a joint video engagement and that Queen Elizabeth said, "Hello, Camilla." It will be added to the Hall of Fame of excellent online greetings, beside Jennifer Coolidge saying "Hi" after the camera does a full once-over of her body on Instagram.
That's it for now! You can donate to Royal Analysis here if you'd like. Stay safe, wear a mask, and get the vaccine when it's your turn. Thank you so much for reading.
Processing…
Success! You're on the list.
Whoops! There was an error and we couldn't process your subscription. Please reload the page and try again.