Given that we've just passed the one-year mark of the Western world being in lockdown due to a pandemic, and because of the insanity of the Oprah interview and subsequent fallout, I have no sweet clue what day it is. Or week. Or sometimes month. Is it September? How old did I turn on my last birthday? I don't know. My brain has given up trying to even guess.
All of that is to say that we're going to talk about Will and Kate's reaction from the Harry and Meghan Oprah interview, which occurred six months four days two weeks ago.
A quick refresher: Harry and Meghan said some pretty crappy stuff about Will and Kate specifically, and the British Royal Family generally, during their interview with Oprah. Meghan claimed that rather than what was reported in the media (that she made Kate cry at a bridesmaid dress fitting for her wedding), the opposite happened – that Kate was the one who made Meghan cry. Then, later in the Oprah interview, Prince Harry made some pretty harsh statements about Princes Charles and Will being "trapped" in the Royal Family and not communicating with him.
Also, both Harry and Meghan talked about how members of the Royal Family are racist, and how at least one member of the BRF had "concerns and conversations" about the possible skin colour of Harry and Meghan's children. Basically, they lit a match, dropped it at the Buckingham Palace gates, and walked away.
The BRF's unofficial motto is "Never complain, never explain." So, instead of arguing against each statement made during Meghan and Harry's Oprah interview, the BRF line was to put out a general statement saying that it was saddened to hear things had been so hard for Harry and Meghan, and that issues laid out in the interview would be dealt with privately. That was supposed to be the last word on it from any family members still in the institution. On the night of the interview, on Instagram, I posted these memes about how Harry and Meghan deal with questions from the media vs. how the BRF deals with them.
This is how Harry and Meghan deal with questions from the media/interview requests:
And this is how the British Royal Family deal with media scrutiny:
So, after the BRF (on behalf of Queen Elizabeth) put out the post-interview statement, I thought it was done from the royal family side. One of the other phrases associated with the BRF is "Deeds, not words," and that's exactly what the working members of the royal family have been doing for the past two weeks. They have been volunteering at vaccination clinics, visiting schools, going on Skype calls. Doing the normal, nice things that royals do.
At a vaccination centre a couple of days after the interview aired, a member of the press pack yelled a question about the interview to Prince Charles, who smirked/chortled, and continued walking. That's about what you'd expect from a member of the BRF when asked about something they don't want to talk about.
"Very much not a racist family"
But then, later that week, the same thing happened when Will and Kate were walking outside during an engagement – a member of the press pack asked if Will had spoken with Harry since the interview. Will replied, "Not yet, but I will do." This is sort of on the line of being an acceptable, say-nothing response from the BRF on a hot topic. But, as Will and Kate were walking away, the press person asked if Will's family is racist. The normal play in a situation like this would be to walk away and say nothing. But, clearly fed up, Will responded by saying that his family is "Very much not a racist family."
This was such an ill-advised thing to do. And Will is usually so good at holding his tongue! But I think he'd had enough. You could tell that he had had enough. His brother and sister in law had spent two hours on national television tearing his wife and father and grandmother down a peg, and he couldn't stay quiet about it anymore. I get why he said it, and I get that it happened in the heat of the moment, but this was such a bad call. And here's why it's a bad call:
It goes against the almost 40 years of media training you have, to not stoke fires; and
Regardless of whether or not the individual members of your family are or aren't racist, you can't argue that the institution isn't. The institution of the British monarchy, like all institutions founded on building empire and exploiting people for capitalist purposes, is founded on racism. Even if it has tried to course correct, even if it's nice to people of colour today, something built on racism is still at least partially racist. If the institution can acknowledge that fact and apologize, then people can try to heal from it. But Will saying "my family isn't racist" just puts more fuel on the fire. Even if he was talking about his direct family members, he also speaks for the institution. And the institution can't say that it doesn't have a long and involved past with racism.
Hurt and healing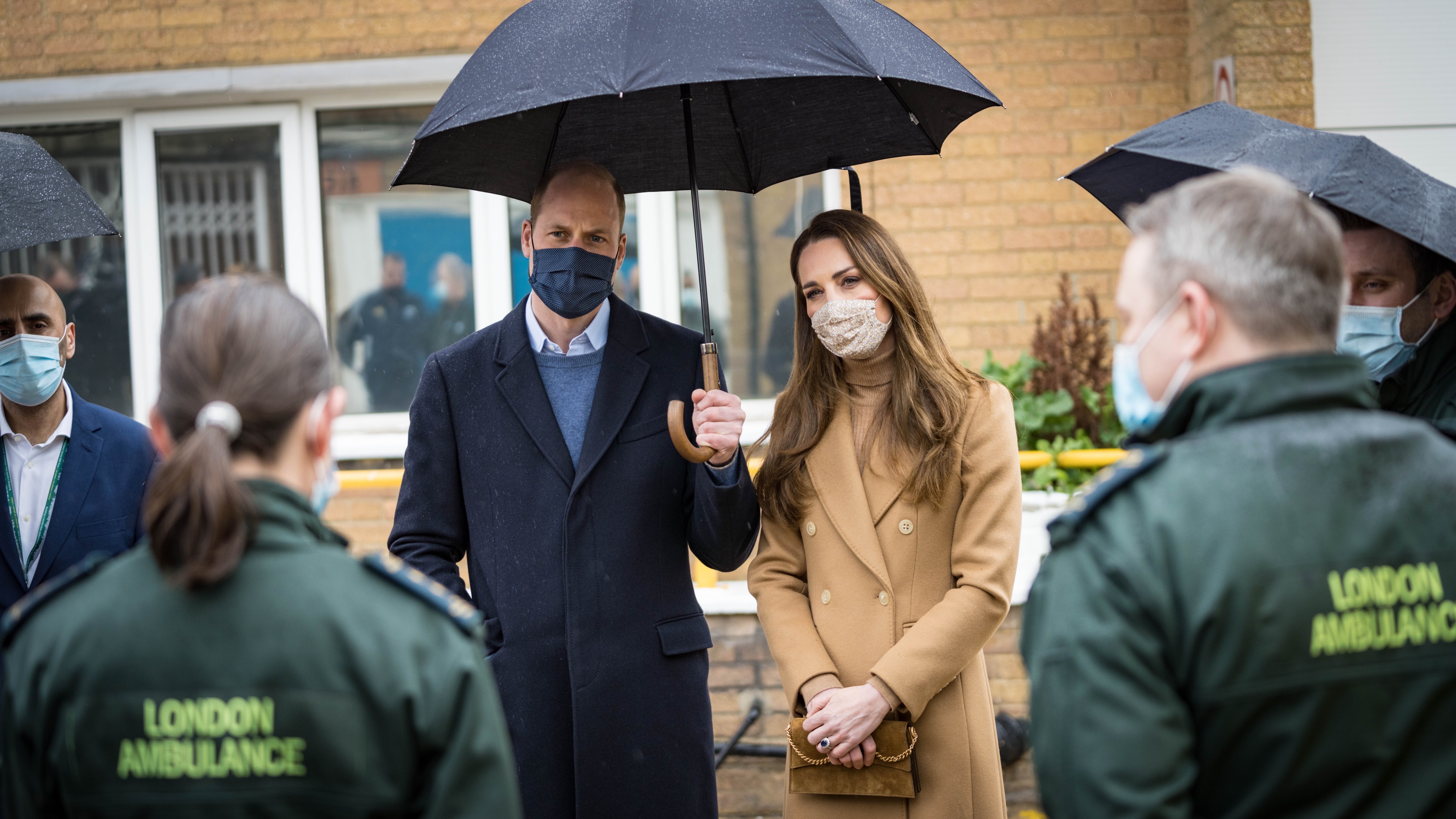 Late last week, Will and Kate went to an outdoor engagement to support the London Ambulance Service. Again, this should have been a routine engagement for the Cambridges. They met with London Ambulance staff. They FaceTimed with one staff member's family. The above photo is one of three that was released by the KensingtonRoyal Twitter and Instagram accounts. As far as engagements go, it was nice and nothing out of the ordinary. Look, Will even held the umbrella for Kate! etc.
But THEN, Will and Kate decided to stand in front of a mural of a heart that has been injured and over which a Band-Aid has been placed. The mural says "Healing" on the left side of the heart and "Hurt" on the right side. The above picture only sort of shows it, but there is also a crown above the heart.
The photos of the Cambridges in front of this mural were not released by their comms team. They were taken by the pool photographer of the Royal Rota, the press pack that goes with royals to cover their engagements. So the photos were not authorized or "chosen" by Will and Kate or their team. But this is about as staged as you can get. They knew what standing in front of that mural would say, and they knew that photographers would capture it. They knew that pictures of themselves with the word "HURT" in the background would make it into papers and onto social media. So while they could claim plausible deniability, Will and Kate knew what they were doing. This stunt was about their feelings re: Harry and Meghan and the Oprah interview.
In terms of British Royal Family messaging, this is pretty close to the Kim Kardashian "I'm dropping hints that I'm single" (cut to her saying "I'm single) meme. It is not subtle. It is not royal. It's actually downright petty.
While digging into these pictures on Instagram, I complained that Will and Kate were perpetuating the idea that they are victims of Harry and Meghan by standing in front of a mural that says "Hurt". A follower (my readers and followers are so smart, I love them) argued that the "Healing" section of the mural is just as relevant and important as the "Hurt" section. Of course, that person is right. The only thing I'd add to that is that because Will and Kate couldn't use their own photographer to take pictures in front of the mural (because it would be seen as a direct, rather than indirect, shot at the Sussexes), they had no choice of which angles the photographers would use. Hence, this photo of Kate with the word "Hurt" and covering the word "Healing". So even if W&K were trying to tell us that they're bruised by still standing, the photographers and press know which photos will sell.
I understand Will and Kate's frustration at not being able to directly respond to Harry and Meghan's claims in-depth. They risk dragging the BRF down into the petty insults that have been flung around by Harry and Meghan. But for Will and Kate, two extremely controlled, calm, risk-averse people, to speak directly and indirectly about a fractious relationship with Harry and Meghan in these ways, shows us that they are ruffled. They are losing their cool in public for one of the first times ever. Are these actions a very bad idea that will keep the Harry + Meghan v. Will + Kate war raging? Yes. Does it show that Will and Kate are human? Also yes. Do I believe that they are healing and hurting? I think it's mostly the latter.
Thank you so much for reading. You can send me coffee money via Square here if you want to. Stay safe, wear a mask, and when your time comes, get vaccinated!
Processing…
Success! You're on the list.
Whoops! There was an error and we couldn't process your subscription. Please reload the page and try again.